0.8mm Slim Permanent CD/DVD Marker Resin Tip China Factory
Link: https://www.beifa.group/quick-drying-permanent-marker-for-cddvd-product/
Whatsapp/Wechat/Mobile: +86-13586865656
Email: admin@beifa.group
SKU: PY231802 
Dimension: 140.9x12x16.4mm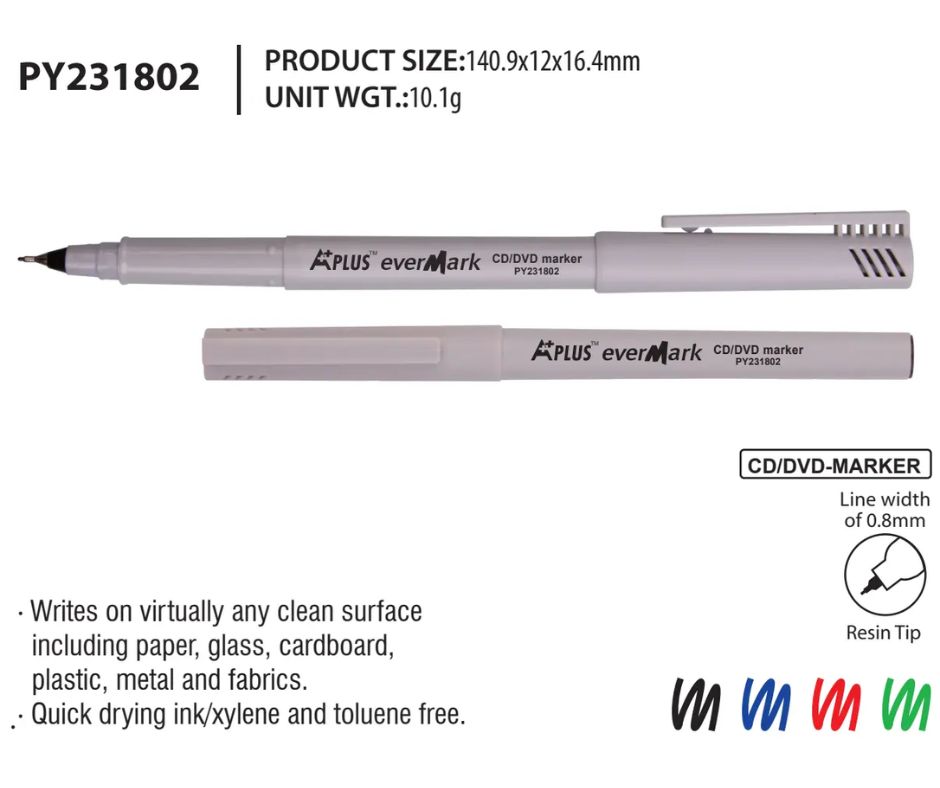 | | | | | | | |
| --- | --- | --- | --- | --- | --- | --- |
| Material | Quantity per Box | Box/Carton | Carton Size | Carton Weight | Tip | Line Width |
| Plastic | 12 | 72 | 45.5*23.5*21.5 | 7.39/8.39 | Resin Tip | 0.8mm |
| OEM | Lead Time | Sample | MOQ | Color | Trade Term | Port |
| YES | Based on Quantity | YES | 5000 PCS | | FOB | Ningbo |
What we have here is a sublimation Permanent CD Marker with a classic appearance. The pen's tip is resin tip and its barrel's material is best quality plastic with a beautiful round shape and light purple. The writing width is about 0.8 mm. We supply 4 choices of quick-drying ink color: green, blue, red and black ink. This Permanent CD Marker is toluene and xylene free and applied for all people. The OEM customized logo pen can be used for office, business, shop store on any clean surface as paper, glass, cardboard, plastic, metal and fabrics. This pen is shipped to the USA, which is manufactured from Yiwu.
Permanent markers are a must-have tool for a wide range of applications. Whether you're an artist, a student, or simply someone who needs to label items, a permanent marker is an essential item in your arsenal. With its indelible ink, a permanent marker ensures that your marks remain intact for a long time.
Artists appreciate the versatility of permanent markers. They can be used on a variety of surfaces, including paper, canvas, and even wood. The vibrant and rich colors of permanent markers allow artists to create stunning and long-lasting artwork. From detailed drawings to bold strokes, permanent markers offer endless possibilities.
For students, permanent markers are useful for labeling textbooks, notebooks, and folders. The bold and permanent marks help keep everything organized, ensuring that important materials are easily identifiable.
In everyday life, permanent markers find their place in various tasks. From marking storage boxes to labeling household items, a permanent marker ensures that your labels won't fade or smudge over time.
It's important to note that permanent markers should be used with caution. Once the ink dries, it becomes difficult to remove. Before using a permanent marker, make sure to test it on a small, inconspicuous area to ensure it suits your needs.
In conclusion, a permanent marker is a versatile tool that offers long-lasting results. Its vibrant colors and durability make it indispensable for artists, students, and everyday use. With a permanent marker in hand, you can confidently create bold and enduring marks that will withstand the test of time.
---