Beifa Group held a farewell party for retired employees in the second quarter of 2022
Beifa Group held a farewell party for retired employees in the second quarter of 2022
On June 23, 2022, the labor union of Beifa Group held a farewell party for retired employees in the second quarter of 2022, retired staff was given a warm send-off, and thanked for making an outstanding contribution to the development of Beifa Group. Vice President Mr. Wang Ju attend and send blessings, and Chairman of the Labor Union Mr. Wang Longqi hosts the activity.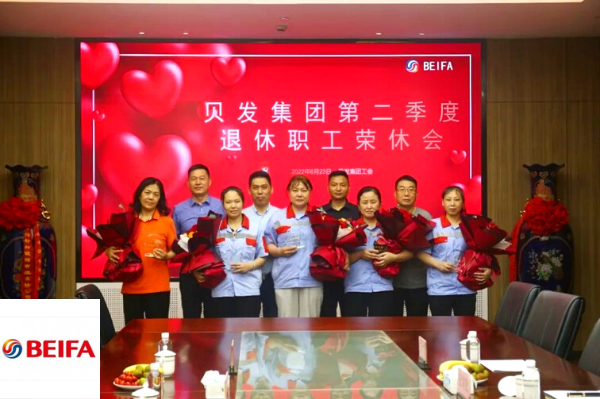 At the meeting, the retired colleagues spoke freely and made their retirement speeches in succession. Every word revealed their nostalgia for working time and their reluctance to give up their feelings to their leaders and colleagues. Wish Beifa Group's business progresses day by day and creates resplendence again!
The group has expressed its high respect and heartfelt thanks to its employees for their hard work and selfless dedication. The development of Beifa is inseparable from the joint efforts of generations of Beifa staff. Today's farewell party is not only a farewell to the old staff but also a communication meeting. Let us hope the younger generation will take over the baton in their hands, continue to carry forward and inherit the spirit of Beifa and promote the sustainable, stable, and healthy development of Beifa Group.
In recent years, Beifa Group has been taking care of the staff as an important way to stabilize the staff and gather strength. The group has been doing their best to do practical things for the staff, constantly improving the sense of gain and happiness of the staff, making the staff feel the true feelings and temperature, and creating a secure and comfortable working atmosphere for the staff.
---